• Home • The Wheeler Family • Portia Wheeler • Frederick Young Fox • The Laurie Family • The Sheaffe Family • The Earle Family •

Written by Shirley Margaret (Betty) Williams about 1987
This is the story of Henry Wheeler who died on 27th August 1873 and of his descendants, as far as we know it.
Henry Wheeler was reputed to be a Governor with the Bank of England and was quite a wealthy man. He was, I understand in charge of the Bank's European business and during his travels met and married Portia Gaudiano in Sicily. She was the daughter of John Smith who was British Consul in Sicily. Her mother was Sicilian. There was a documentary called "Royal Heritage" on the ABC some years ago, showing the Queens pictures, so me of which were presented to, I think, King George III, by John Smith.
Editor's Note: His directorship of the Bank of England cannot be substantiated and is now considered doubtful. He was instead almost certainly a successful Merchant. It is interesting to speculate that he would have been business associates of the Earl and Sheaffe families in London, the descendants of which married his son Charles, in Australia.
Portia Gaudiano Wheeler was a very beautiful young lady. Her portrait, or rather a photograph of it, is now in the Worcester Park Album which I have. The original portrait is now with Mrs. Jane Hendry of Kerket House, Fofar, Angus, Scotland (more of Jane's place in the family later in the story). Jane also had a portrait of Henry Wheeler.
Henry Wheeler and Portia lived at Worcester Park House and they had sixteen children, most of who were born in a different capital of Europe. Worcester Park was never owned by the family but held a 99 year lease, which was a common occurrence in England. The following description is taken from the English Weekly times of August 1938.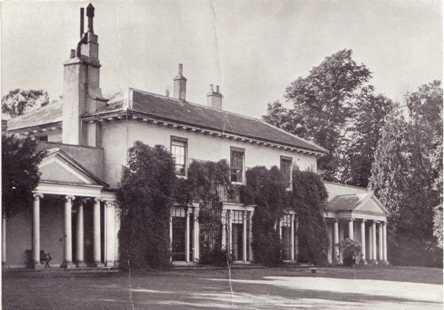 Famous Manor Threatened
Link with Henry VIII and Wosley
"An energetic effort is now being made to save from threatened building development, the beautiful and historic 355 acre Worcester Park Estate and Manor House near Ewell, Surrey. It is understood that the estate is to be sold, and much of it has already been planned by local authority for building purposes.
The Cuddington Resident's Association, which is mist immediately concerned, has prepared a public appeal, and Mr. Palmer the Secretary of the Society for the Protection of Ancient Buildings tells me that the Georgian Group is backing up the plea for saving the manor house in it's beautiful setting.
The estate lies in a slope between Cuddington Parish Church and Kingston Road, the upper reach being protected by an avenue of giant elms planted my Wolsey. It formed a part of the Royal Chase from Hampton Court to Nonsuch a Palace and was highly favored by Henry VIII for his hunting parties.
In later years it attracted many celebrated painters. It was at Worcester Park House that Millais painted his picture "The Huguenots" and here lived Holman Hunt when he was engaged on his best known painting "The Light of the World".
The Cuddington Resident's Association argues that the preservation of the whole estate is necessary to complete the chain of open spaces through Ewell.
An aerial survey undertaken by this association shows how housing development has already hemmed in the Worcester Park Estate making it, in the Association's view, the more necessary that there should be no further encroachment."
I have recently acquired a postcard from the London Borough of Sutton Libraries and Arts Services showing a view of the house. "Postcards of Yesterday, Worcester Park," with the caption "Worcester Park House in about 1910. This house, successor (on a different site) to Worcester Park House of the keeper of the Great Park of Nonsuch Palace, was built in 1797 by William Taylor. It stood on a site a little north east of the present Hogsmill Tavern. It was demolished after the Second World War."
When I was in England in 1949, I went to Worcester Park, then an outer London suburb on the train. The park was then mostly gone, but the ruins of the house still stood. The roof had gone, some of the pillars and walls were left, and some of the lovely parquetry floors. It was very sad for me as, having being brought up with the album I had always longed to go to England to visit the house. It had been incendiary bombed during the war and vandalized.
Back to Henry and Portia. According to a letter from Lady Mariot Ironside (more of whom later) Portia had a brother, Antonio, who was a "bad lot" and only whispered about; and a sister Antonina who married into a family from Norfolk.
Henry and Portia as I said, had sixteen children. We know of them because my great great grandfather Henry, left a Will very cleverly leaving his money in trust for his descendants - the last of which came to your father, Norman Frederick Fox and to me. We have copies of many of the distribution documents as each of his children died.
I shall tell you what I know of these children. I know only of their dates of death - not their birth. So they appear in no particular order.
EDWARD - who was lost at sea. He was unmarried and died on 26th May 1892.
FRANCIS - died unmarried on 14th September, 1890.
AUGUSTUS - know as Uncle Gus, also did not marry and died 23rd March, 1898. He lived as Worchester Park with his sisters.
HENRY - who I cant find anything about except for a photograph in the Album of "Henry and Frederick, Portia-Jean's Great Uncles".
NINA - (Antonina) who died 24th July, 1937 aged 88 years and is buried at the Old Malden Church.
ELLEN - died unmarried 28th August, 1910.
ALICE - who died on 3rd January 1936, aged 90.
PORTIA - who was the eldest daughter, who died unmarried on 28th June, 1906. She was said to be 'always in bed' having suffered from a frustrated love affair!
LAURA - Unmarried - who I think died in the early part of the last War, perhaps 1940, the last one left at Worchester Park.
HARRIET - Cant find anything about her.
CLARA - unmarried - also don't know when except that she died 'of a decline'.
BLANCHE - died on 15 November 1931. She married first the Rev. H.B.Verdon and later Oliver Thomas DUKE. She had 6 children whose names are interesting. Barry Pevensey Duke (who died at 21. He was probably killed in the First World War; Jesse Pevensey Duke; Viva Tertia Pevensey Duke (who married a Macpherson); Eileen Pevensey Duke (who married a Mortimer); Ella Pevensey Duke and Olive Blanche Duke. You see that all the children except one, had Pevensey in their name. There is a Pevensey Castle in Sussex on the South Coast between Eastbourne and Hastings. I wonder if the Duke family originated there. Something to follow up for the next of the family who goes to England!
MARIA who married Robert Braithwaite Marineau; and later married Simmon Mortlock Ranson. She had 5 children - Florence Martineau (Mrs Ned O'Brien); Gerald Martineau, who died 9th April 1928. He was the family Solicitor in London. The firm was Walker Martineau & Co. and Helen Martineau. There were two Ranson children, Denys Francis and Olive Mary who married someone with the unfortunate name of Fluck. MARIA died 31/7/1918.
CONSTANCE - who married William Smith Hastings. She had 5 children. Major Percy Hasting, Clement, Mark, Ethel and Juliet whom I met when in England in 1949-50. She was a tall stately white haired woman who lived in a beautiful English cottage surrounded by an "English Country Garden", near Tunbridge Wells.
FREDERICK who died on 6th January 1882. He came to Australia. His grandmother, Mariot Ironside, says in a letter that he was "sheep farming" but my grandmother told me that he was in charge of the mounted police up in or near Rockhampton - perhaps Marlborough. He thrashed a Native policeboy who died - it was thought as a result. He was accused of murder. His friends in Rockhampton, who were quite influential men, put up bail for him and then advised him to "skip bail" and he went to Germany. Mount Wheeler, between Rockhampton and Yeppoon is named after him. It was found after an autopsy that the native had a bad heart and died from that - so it wasn't his fault at all.
Editor's Note: He died in Java. Mt Wheeler is not named after him after he drove a mob of blacks off the top to their deaths, but after an unrelated surveyor.
Frederick's children were - Florence Harriet (Mrs Ned O'Brien); Geraldine Maria (Mrs Robert Money); Eva Alice Duckworth (but firstly Mrs Cheyne, who was Mariot Ironside's Mother). Laurence Duckworth was Professor of Anatomy and later Master of Jesus College, Cambridge. Mariot said her mother was born at Marlborough. The first child of Frederick was Ida Portia who was drowned when returning to England with her Governess.
Mariot Ironside, with whom my Mother corresponded, spent her last years in an Apartment at Hampton Court Palace given to her by the Queen when her husband died. He was General Sir Edmund Ironside, Chief of the General Staff when the 1939-45 War broke out. He had had a very adventurous life at one time being Governor of Gibralta. They lived in Norfolk before he died.
Mariot had a son who worked in Parsons and lived in Essex (I don't know whether he is still alive) and a daughter, Jane. Jane (Mrs Hendry) is 70 now (1987) and we correspond. She had three sons, one of whom is a Lawyer in Edinburgh , another David (I think) who is a horticulturist and lives at home. The third, also a lawyer, was in Dubai but I gather is now in Edinburgh.
CHARLES - our great-grandfather - and Peter, Cam and Norman's Great great grandfather, of course. Charles died on 22 September 1898.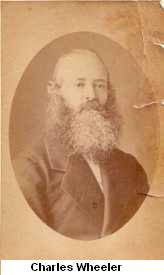 Charles married in Australia - Emily (I think) Sheaffe of Bowral, N.S.W. They lived at Illawarra - or that is where his son, Henry Gaudiano, was born. There does not seem to be a town of Illawarra now, but the Lake of the same name is near Woollongong. The family returned to England for the birth of the fourth child. His wife was in poor health. The children were: Henry Guardiano (your Gran Fox's father); Guy Danvers Wheeler, who was in South Africa and Rhodesia before coming to England during the first World War. There are long interesting letters from him from places like Mafeking, Bloomfontein and Bulawayo, amongst our papers. He had a daughter, Hazel who married, in Rhodesia, a Paulet, who was of the family Winchester and whose son Nigel inherited the title of the Marquess of Winchester during the Rhodesian war with the terrorists. Nigel went to England and took his seat in the House of Lords to make a speech about Rhodesia. His mother (our Mother's only first cousin) had a tragic death in Umtali (Rhodesia) from cancer of the mouth. We have letters from her.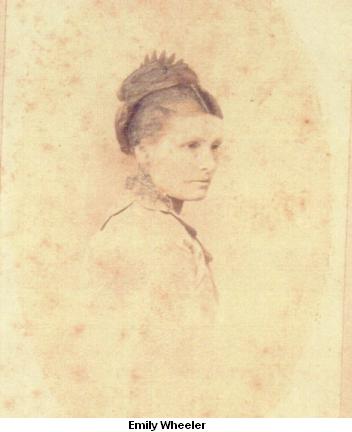 Two other children of Charles were Portia and Hugh, neither of whom married. Portia (our great aunt Portia) lived in Eastbourne, Sussex, England and we have many letters from her to her sister-in-law - our Grandmother - Mrs Annie Margaret Wheeler, O.B.E - written before and during the last war. Portia died in Eastbourne in July 1949.
We have an old newspaper cutting (undated) describing a droving trip that Charles Wheeler did with 3,000 head of cattle from New South Wales to Port McKay (now Mackay) Queensland.
In the 1950's when I was working at Parliament House in Canberra as Secretary for the then Minister for External Affairs, there were two Sheaffe girls there whose home was in Goulburn and also we visited some older Sheaffe women in Bowral.
Charles and Emily and Hugh and Portia and probably also H.G. (our grandfather) and Guy all retuned to England - and later H.G. returned to Australia. There is an illuminated Card Certificate of Confirmation of Henry Gaudiano Wheeler by the Bishop of London.
Later Charles and Emily & Hugh and Portia lived at 3 Boulevard Grancy, Lausanne (1896) and spent the Winters in Florence at 1 Via Delle Porte Nuove (letters dated 1897 and 1898. They mention a "house" in Florence and an "Etage" in Lausane.
Harry Wheeler, our Grandfather worked on "Welshot" between Ilfracombe and Longreach . There is a newspaper cutting about this Station and the men who worked on it, the area and the number of sheep - in 1861 and 1862.
Later Henry Wheeler bought "Cooroorah" near Blackwater. He was thrown from his horse and badly injured, was brought into Rockhampton and operated on on the kitchen table at the Criterion Hotel by Dr. Vivian Voss of Rockhampton. Our grandmother nursed him - and later they were married in Rockhampton in 1896. There are letters from him during their engagement telling of huge floods in the Isis River.
In about 1901 or 1902 he and Gran Wheeler and daughter Portia Jean (born 1897) came to live in Rockhampton. I imagine he sold "Cooroorah" He died in 1904.