• Home • The Wheeler Family • Portia Wheeler • Frederick Young Fox • The Laurie Family • The Sheaffe Family • The Earle Family •

Written by Norman Frederick Fox about 1987
Recollections and tales told to me mostly in my childhood days at Rockhampton and Emu Park say 1929 to 1936.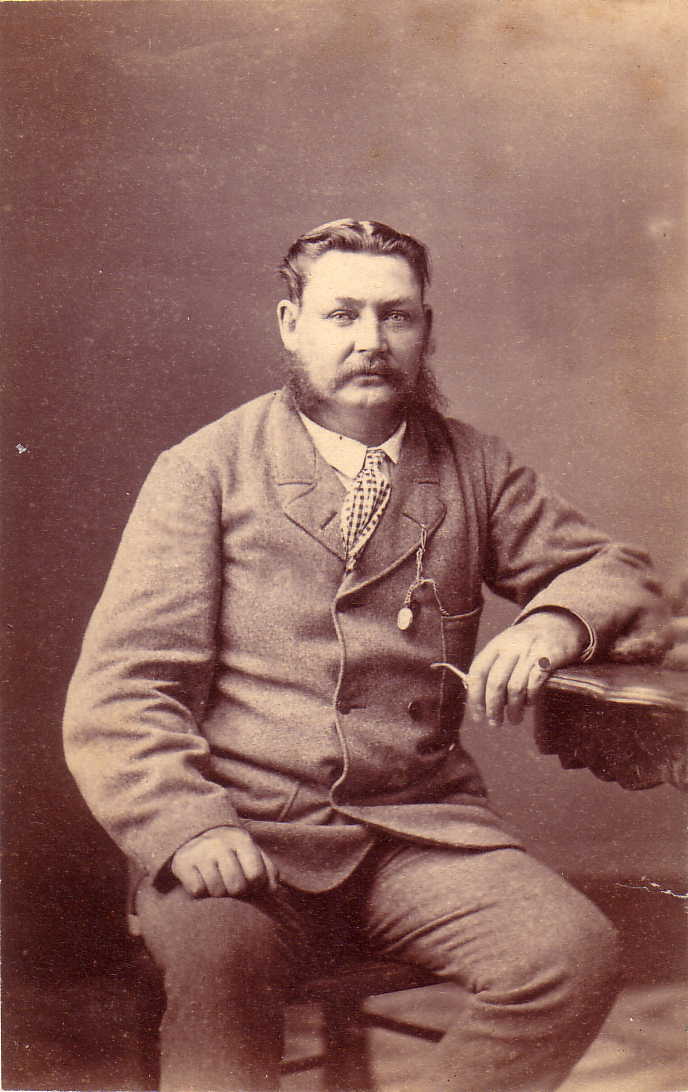 Alexander Laurie and his wife Margaret migrated from Scotland. They married in NSW. One of the Fox women from Goulburn was matron of honor or bridesmaid at their wedding?
They were reported to have been in the Monaro district and the names like Royad, Bell, and Daglish used to crop up in conversation between the families when I was a small child.
Mr. Laurie (snr and his wife) came to Queensland in the 1860's. He either owned or managed Arturis Station near Springsure. They are said to have two children (boys). Mrs. Laurie was bringing them north before entering QLD to have them inoculated for typhoid. The vaccine was faulty and the children died either on the Queensland border, or in Brisbane.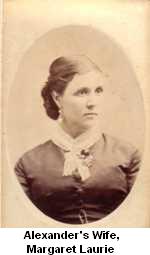 Alexander and Margaret Laurie had four children born in Queensland.

Annie Margaret Laurie (b. 1865 d. 1950 Surfers Paradise) later, Mrs. Wheeler and my maternal grandmother; Harry Daglish Laurie b. about 1868 d. about 1948 Winton; Jean Laurie b. d. about 1958 Rockhampton; Frederick Summerville Laurie b. about 1871 d. 1936 Rockhampton.

I remember attending Uncle Fred's funeral at the Dawson Road cemetery after returning to Rockhampton from "Churchy" for school holidays.

<![endif]--><![if !vml]>

<![endif]>

I am fairly sure that Mr. Laurie senior died in 1873. He is buried in the Springsure cemetery. He was a big man and fairly heavy. He was chasing a dingo on horseback swinging his stirrup iron to strike the dingo but missed the target and struck his leg breaking the bone. It was badly set I think by someone at Blackwater. He returned home but gangrene had set in and he died.

I am vague about the next few years. The Laurie's were not well off and Mrs. Laurie moved with her young family to Springsure or more likely Rockhampton where she opened a convalescent home. Like most Scottish lassies she had considerable skills as a nurse for those days.

Mrs. Laurie remarried a Mr. White. White had a sister in Rockhampton, Lottie, who was married to Dr Vivian Voss, and cousins – an early surveyor who at the time lived in Caroline Street. Mr. White owned Comet Downs and the family moved there and grew up there.

Mrs. White had two more children while at Comet Downs – Maud who did in Rockhampton in the early 1920's, and Lilly who married Earl Bell (of Pearl Creek). Lilly had two children, Jack (still living in Brisbane), and Margaret (Darla) who married Murray Gardener. They live at Yeppoon now. Tales were told of Harry and Fred Laurie as young men running scrub bulls on Comet Downs and droving south to Maitland to try to sell them. Comet Downs was mortgaged to the Banks – I think it was the QN Bank. In 1943 I met a very old man, Mr. Bowman at Mt Brisbane Station. He was sent north to take over the place, probably until 1890. He let the White's stay on Comet Downs until they could move elsewhere.

The White and Laurie children moved to Rockhampton. Mrs. White died from an illness, probably TB, at a fairly early age in Rockhampton I think. They established themselves at a house in the suburb of Wandal. Maud was living there when I was born in 1921.

Harry Laurie took and was sought after for jobs as a station manager. He became a cattle buyer for Lakes Creek. He went to the First World War in the field artillery I think. He drew a very good block in the Muttaburra District (1930's) in partnership with a man called Scott whose son's later took over the property. He returned to buying for Lakes Creek, became a head buyer located at Winton or Muttaburra and continued in that role until he died at Winton in 1948.

Fred Laurie worked in a butchering business in Rockhampton as a bookkeeper/accountant for many years.

Jean Laurie took over as housekeeper for the nurses' home at Hillcrest Hospital. She was a marvelous cook and caterer – cheerful and energetic.

Annie the eldest and only Laurie to marry had some schooling at the Rockhampton convent as a boarder. In her late teens she showed an interest in nursing and actually commenced training at the Sydney Hospital. She returned to Rockhampton and nursed for Dr. Voss.

It was while employed in this role that she met and married Henry Gordiano Wheeler, about 1896 or 1897.

The Wheeler connection should be the subject of another story.

Henry Wheeler owned Cooroora Station near Blackwater I think. He was a sick man and had been badly injured when his horse fell and rolled on him. He was well off when he died in Rockhampton in about 1903. My mother and your grandfather was their only child and the only direct descendent of Mr. Laurie of Arturis. She was christened Portia Jean.

Annie was left relatively well off for those days and in their later days was able to take grandpa White, Fred and Jean under her wing and they lived with her at "The Haven" Emu Park, from about 1921 to 1947 when Annie and Jean moved to Orchid Drive at Surfers Paradise where Annie died in 1950.

Jean is the surviving Laurie who, by this time was blind, went to live with Darla (Margaret Bell) firstly at Yeronga and in 1952 to Rockhampton where Darla and Murray also helped look after Earl and Lilly Bell.

Grandpa White must have left the Wandal house after Maud's death. I can remember him as a very old man at The Haven. He had a long white beard. There was a great commotion not long before he died. He had gone to bed, pulled his mosquito net down, lit his candle, pulled it into it's holder on his chest and commenced to read the paper. He must have gone to sleep as the paper fell down on the candle. The paper and the net went up. Grandpa's beard was singed much to his disgust. Fred threw a bucket of water over the net and the old man. There was no real damage done.

He used to call me "Jimmy from the Wire Fence". The reason I don't know. I was called into his room one day and can remember him saying "never no more Jimmy, never no more". He died shortly after.

Mr. Laurie had a cousin (perhaps a brother) David Laurie who immigrated to Rockhampton District in the ship "Beijapore" of 1676 tons register leaving London on 4th March 1863 and Queenstown harbor Ireland on 24th March and arrived in Keppel Bay on 25th June 1863. "Mr. David Laurie, a Scottish giant, was well known throughout the central Dawson, is believed to be still living, though he has not been seen in Rockhampton in some time" (JS Bird – An Early History of Rockhampton 1904.

My mother remembered David Laurie, living with the White's at Wandal in a room behind the house. He had gone completely blind and had to be cared for. He was musical and played the violin very well. At this stage it's possible that Fred Laurie may have helped to look after him.

"The Haven" at Emu Park was a good place for a boy to have holidays during the 20's and 30's.

Fred Laurie taught me how to ride and handle cattle. He was a wonderful horseman sitting straight in the saddle. He too was an excellent stockman. He would tell me tales of running scrubbers and shooting scrub bulls at Comet Downs 40 and 50 years before.

He could sing well and recite reams of poetry from Scotts "Marmion" to Patterson's Bush Ballads.

He could sing to me while having his afternoon "camps" in a verandah bed at The Haven.

Fred was at the time a councilor in the Livingstone shire council.

Harry Laurie would put in and appearance at Emu Park whenever he was at Rockhampton. He gave me my first saddle for my 5th birthday in January 1926. It is the same saddle you have at "Marrett" 60 years later.

The Laurie's of Arturis (Annie, Harry, Jean and Fred) had cousins in Queensland. Jim Laurie was a manager of Carricks Ltd in Queensland as was later his son Jim. Jim jnr had children – this family lived in Barlow Street, Clayfield during the 1930's. The families were not close and seemed to have lost contact as the years went on.

My memories of the Laurie's (and Whites) are those of a fine family – kindly, thoughtful for others, and honorable. They were well liked in the community though Annie did not play an active part in community affairs.

After this brief general picture of the family we must return to Annie, the eldest. From an early age she seemed to be the dominant character. There is a story that as a young girl, she sat Harry, bare bottomed, on ants nests because he would not do what he was told. Lilly White, her stepsister told me in the late 1950 that in the family they called her "The General". She was good at organizing both affairs and the young family I would suppose.

She was certainly a great help to her mother and particularly at Comet Downs.

My mother had in her possession a cutting sent out from some Scottish newspaper signed "an old Lag" (convict) telling how Annie Laurie brought Christmas dinner, Christmas cheer and good wishes to a gang of railway builders in the Central Line. She had cooked it herself.

Note "The line to Comet was opened on March 1878 Annie would have been about 13 at the time." The line reached Emerald in May 1979. The line to Springsure was completed in 1887.

They tell the tale at Comet Downs of Grandpa White trying to poison the black's dogs and dingoes. There was a rather large camp on Comet Downs and Lilly and Maud played with the children and learned their language. Lilly would tell the blacks to tie up their dogs – Boss was laying baits. The old chap could never understand why he could not reduce the dog population around the homestead.

I have mentioned earlier that while engaged to a nurse for Dr. Voss in Rockhampton Annie nursed and later married Henry Wheeler who owned Cooroora Station. He had ridden down to collect his mail. At the mail box his horse threw him and rolled on him, badly injuring him. He lay there for two days until the mailman returned. He was taken to Dr. Voss who patched him up. Annie married him and went to Cooroora with him.

They didn't stay there long. Mother was born in Rockhampton on 27th August 1898. He had purchased a magnificent house on the Range not far from the Botanical Gardens. It was the first house in Rockhampton with a tiled roof. It was later sold to the Macauley family.

Henry and Annie went "home" to England in about 1900 – 1901 and met Worcester Park Aunts. Harry's aunts, seven of them lived on the family estate at Worcester Park near Croydon and the Wheeler brothers and sister Aunty Portia. I know a little about this visit except that is must have been traumatic for Annie, a girl from the Queensland bush.

They returned to Rockhampton where Harry Wheeler died soon afterwards. Annie never talked to me about her husband except to say that he was a sick man. Others have mentioned that he drank heavily at this stage and became an alcoholic. He died when mother was too young to remember him.

Annie sold the house and purchased another closer to the Girl's Grammar School where mother in due course went to school.

Henry Wheeler's Will stipulated that his daughter was to be taken back to England to a girl's school at Eastbourne. In about 1911 Annie went back to England with mother to enrol in school. Annie stayed on in England and was still there when the First World War broke out in 1914. She was on good terms with the Wheeler in-laws, particularly Aunt Portia.

She maintained a large correspondence with the people of Central Queensland and this increased as Queensland troops went to France. On leave, they would come and see Mrs. Wheeler and her daughter. Her private correspondence grew to the stage where an organization had to be established – "the Central Queensland Comforts Fund". My mother, some local women and Nurse (later Matron) May MacDonald were sent over from Rockhampton to assist. They had their headquarters and lived at Westminster Palace Gardens, Horseferry Road, London. The organization grew until there were several thousand names on their cards. They visited sick and wounded in England, arranged money for them and forwarded mail and parcels to the troops. It was an extremely busy four years for both Annie and her daughter. The latter of the course had a marvelous time as a young lady with all the excitement of London in war time. It was in London that she met and fell in love with my father. Their organization grew to the extent that the London Post Office made a special delivery at their headquarters in Horseferry Road.

Annie was highly regarded in both London and in Queensland (Australia too I think) as the war progressed.

They returned to Australia in 1919 to a welcome from "her Boys" in Sydney, later in Brisbane and of course Rockhampton.

She was awarded the O.B.E for her services to the troops of Central Queensland. The Central Queenslanders clubbed together and gave her 640 acres of land with a nice home "The Haven" at Emu Park in recognition of her work. She would have occupied the Haven in 1920 or 1921 I think.

Annie continued her good works and was local president of the Q.C.W.A for many years during the 1930's where she built a holiday home for country women who came done from the Callide and Dawson areas. She used to drive over to the home at Zilzie, see it was clean and well stocked with groceries etc. and ready for the women and their children as each family arrived down. She drove a horse and buggy (a phaeton).

Annie stayed on at "The Haven" until the Americans took over the property in about 1943. She and Jean had been finding it extremely difficult to manage there without Fred. They had no transport and the Haven was two miles from town. They moved out of Emu Park to a rented home or a flat. When the Americans vacated the Haven, they moved back. I visited them for the last time in 1946.

My sister Betty and mother built a modern brick home for Annie, Jean and their trusted housekeeper Miss Robertson (Robbie) in Orchid Avenue at Surfers Paradise. They moved in there in about 1946 or early 1947. She lived to see her great grand child Peter and died there in 1950.

Nearly all the records were lost at Emu Park – probably burnt when they left to come south. Annie and Jean at that stage were too old to cope with and sort out the accumulation of years.