<![if !supportEmptyParas]> <![endif]>
[Fox Family History Home Page] [Site Map]
[Isaac Fox b. 1810] [The Children in the First Family]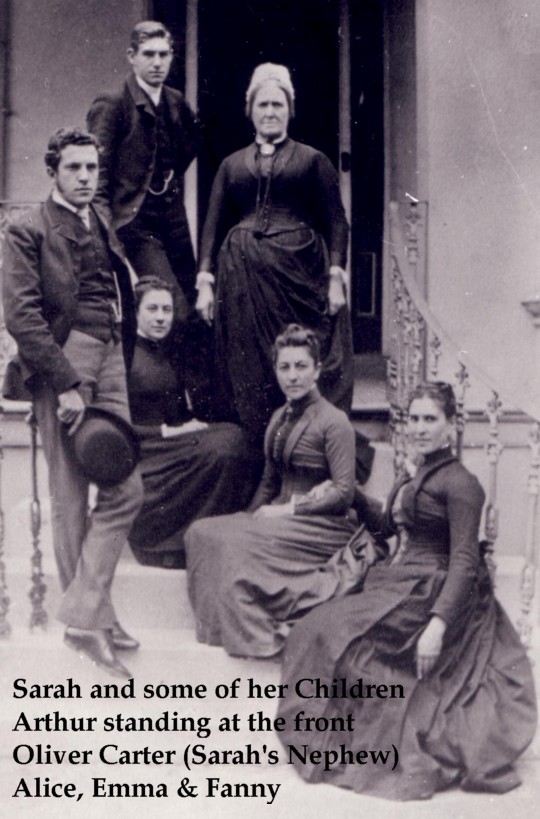 ANN FOX - Born 09.10.50 Jerrara, married John A Badgery of "Ivy Hall" Sutton Forest. Aunt Annie as she was affectionately called by her nieces and nephews, was extremely good to the family of her younger brother Frederick and his wife. Their first son, Sydney was born at Exeter and "Gipsy" (Madge Annet) went to live with the Badgery's and took schooling with them. She became a life long friend of Enid's and this friendship persisted until Enid's death in Brisbane in May 1966. For the Queenslanders, a holiday at Exeter was an event to look forward to and both Enid and her stepsister Amy visited "Croydon" and "Bombandy" on more than one occasion.
<![if !supportEmptyParas]> <![endif]>
FOX - The eldest son of Isaac's second marriage was born at Jerrara on 7 May 1852. I know nothing of his early life. Members of the family in later years spoke highly of Thomas as a man of many parts, of high ability, a forceful and interesting character.
<![if !supportEmptyParas]> <![endif]>
Thomas, or Tom as his younger brother Fred called him, came to Queensland after George had settled in the Rockhampton district. He purchased "Bombandy" holding on the Isaacs River and later brought his younger brother Fred to work the property with him.
<![if !supportEmptyParas]> <![endif]>
Tom had visions of expanding their family interests in Queensland. He went to Winton in the early days and opened a store - my father told me in partnership with Corfield but I can get no confirmation of this (perhaps Parnell). He contracted typhoid fever and died there on 25 January 1882.
<![if !supportEmptyParas]> <![endif]>
His brother Fred, then not 26 years of age, rode overland from "Bombandy" to Winton taking with him 30 horses, 3 packhorses and a black boy. It was considered a great feat of bushmanship, even for 1882. Tom Fox was an accomplished wood carver: Miss Louise Fox holds a walking stick and the knife he used to carve it. There is no record of any of the Winton assets passing to Fred or other members of the family. Tom had been in Goulburn at the time of his father's death on 30 November 1878.
<![if !supportEmptyParas]> <![endif]>
EDWARD CARTER FOX - Born Jerrara 17.06.54.  Edward did not reach man hood and died of scarlet fever at about 11 years of age.  His mother was also very ill at this time and it is thought that she too had scarlet fever.
<![if !supportEmptyParas]> <![endif]>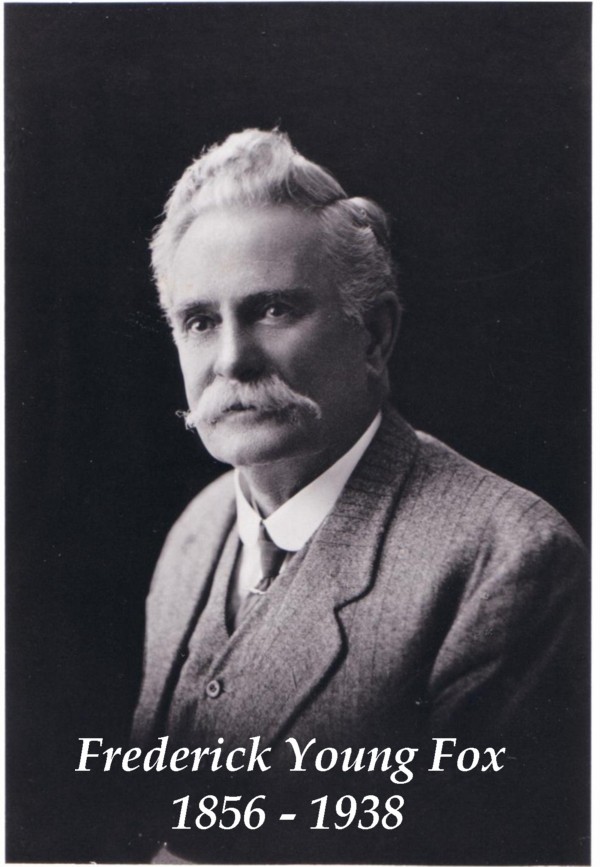 FREDERICK YOUNG FOX - My grandfather, we know a little more about. In this section we will talk a little about him and his life and discuss his family later.
<![if !supportEmptyParas]> <![endif]>
He too was born at Jerrara, on 13 April 1856 and educated at a private school conducted by the Rev Welby at Goulburn. He worked for a short time with the Bank of New South Wales. In 1876 he accompanied his brother Thomas with cattle to central Queensland and then they purchased "Bombandy" from Mr John Shannon. The property at this stage was completely undeveloped and without improvements. The first house was a bark and slab hut on the Isaacs River near a fairly large Blacks camp. It was on the road from the Peak Downs Copperfields to the coast at St Lawrence.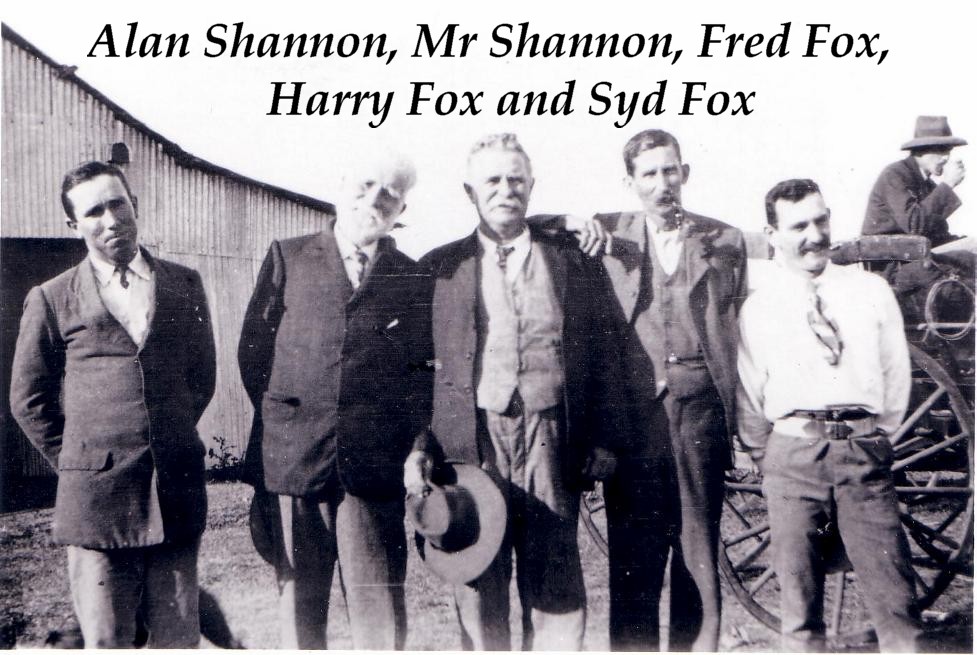 After Tom's death at Winton in 1882, Frederick Young Senior continued to manage "Bombandy". On 18 August 1884 he married Margaret Isobella Craig at "Croydon Station." She was born in Nelson, New Zealand on I June 1864. Her mother married again, a man named Holmes. They lived for a time in America and a son was born, Fred Holmes. Margaret Isobella was at that time a Governess at "Croydon." She was a small, dark and pretty lass.
<![if !supportEmptyParas]> <![endif]>
After a time her mother, Mrs Holmes and stepbrother, Fred came to live at "Bombandy". Fred Holmes was killed at "Bombandy" after being thrown from a horse. Granny Holmes was a strong character - for many years she made the homestead at "Bombandy~/" all that a home should be. There was little she could not do - clothes were made on the station, even the moleskin trousers. She taught her children and grandchildren how to preserve fruit and cure meat. She was popular in the district and respected for her ability and energy. She became very friendly with Mrs John Shannon and spent considerable time with her at "Saltbush". Granny Holmes died in Brisbane about 1921 and was buried at the Dutton Park cemetery.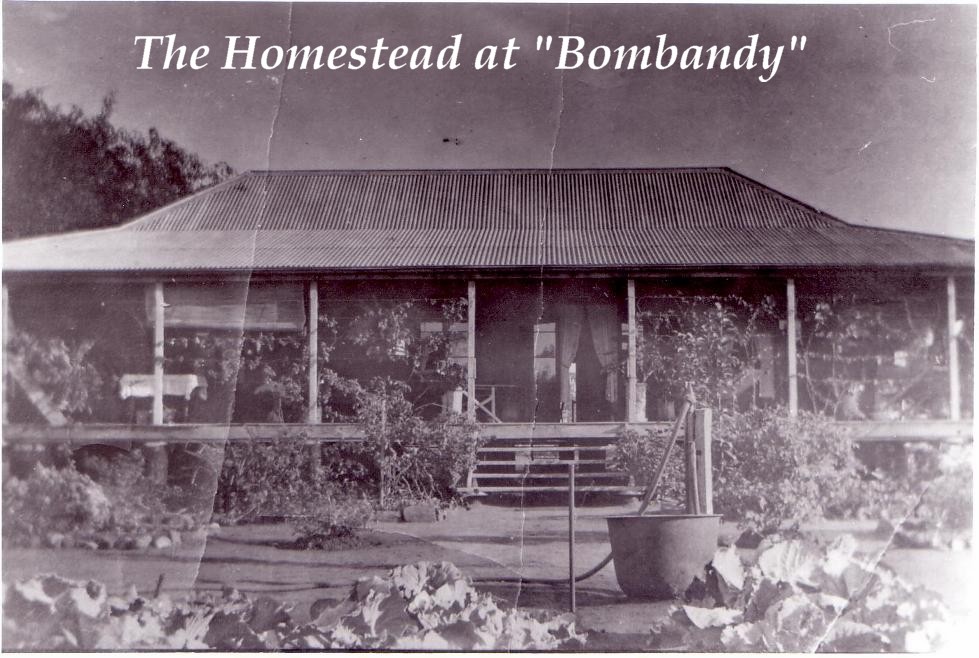 EMMA OLDFIELD (17.05.1858 08.11.1942). I have a photograph outside Rose Hall in Sydney with a group of soldiers after World War I. after a member of the Young Family.
of "Matron Fox" She was named
<![if !supportEmptyParas]> <![endif]>
FANNY born 28.03.60 married William Wentworth Bucknell of Quambone Station. They had two sons and four daughters. One son, Lt William Wentworth was killed in action at the age of 27 on 10.08.1917.
<![if !supportEmptyParas]> <![endif]>
BENJAMIN CARTER (10.02.1862 - 1914). A bachelor who worked all his life with the Bank of New South Wales. He remained in New South Wales and was friendly with his younger brother Arthur and Arthur's family.
<![if !supportEmptyParas]> <![endif]>
ALICE MAUD FOX (07.11.1864 - 23.08.1951) married Stuart W Manning on 10 August 1892. They had two children, Henry Stuart Manning (03.07.93 to 1895) and Alice Wilmore Manning ("Wilsie" born on 14.08.96).
<![if !supportEmptyParas]> <![endif]>
Wilsie lived for the first 20 years of her life at Mossvale, Exeter. She attended the Mossvale Convent and finished school at Strathfield. "Wilsie" married Roland Leslie Harrison on 3 November 1921. He was a son of the late Dr Thomas Harrison of Granville. She, with her husband moved to the Parkes district and spent the next 40 years there farming.
<![if !supportEmptyParas]> <![endif]>
Wilsie had five children.
Lancelot Harrison                    (29.08.1922)    killed in action 04.07.1944 RAAF)
Wilsie Harrison                       (25.02.1924)    nurse
Dorothy Barbara                     (08.04.1925)   
Stuart Harrison                        (30.06.1932)    married
Roland Hugh Harrison            (03.11.1935)    married
<![if !supportEmptyParas]> <![endif]>
Wilsie retired to live at 673 Tuggerawong Road, Wyongah, New South Wales and was still living there in 1964.
Arthur Holroyd Fox (27.08.66 - 03.06.55). This note has been contributed by his daughter Louise who, in 1964 was living at 107 Cremorne Road, Cremorne New South Wales.
<![if !supportEmptyParas]> <![endif]>
He was the youngest son of Isaac Fox and he married Alice Kate Sharpe, eldest daughter of WHC Sharpe of London. Their only daughter, Alice Louise, did not marry and now resides in Cremorne, New South Wales. Their son, Arthur Lambert Young Fox, is, at the present time Manager of the Bank of New South Wales, Edgecliff, and Sydney. He married Gwenyth, the youngest daughter of Mr and Ms GW Robson of Greenwich on October 5 1933. There are three children of the marriage; Russell Lambert who is a solicitor in Cooma, Barbara Louise who is a nursing sister on the staff of the Flying Doctor Service, and Helen who is a staff member of the Bank of New South Wales.
<![if !supportEmptyParas]> <![endif]>
Alice Kate Fox died March 13 1948.
<![if !supportEmptyParas]> <![endif]>
Arthur Holroyd Fox died June 13 1955 in his 89th year.
Louise looked after her father and mother in their old age. I visited them in Sydney in late 1941.
<![if !supportEmptyParas]> <![endif]>
[Fox Family History Home Page] [Site Map]
[Isaac Fox b. 1810] [The Children in the First Family]