YOUNG FAMILY OF PERTH
As long as I can remember there was an old framed chart on the wall titled "Young of Leny". It started with a Sir John, supposed to be Chamberlain to Mary, Queen of Scots, and detailed a fictitious relationship to Henry Grey of Goby, through marriage of a daughter Jane to a David Young, born about 1620.
In 2003, I went to Leny, at Calendar, in the Trossachs, and stayed at the Estate house there. The current owners kindly made available their papers on the history of the Estate, and it immediately became apparent that the quality of this material made any connection with this House of Leny most unlikely.
The advent of the Internet made much more material available to us, and it was becoming apparent that there could be some issues with the detail on the chart.
There our research languished, until a new addition of a very well written book on the Youngs of Scotland, written by Douglas Young, a Canadian, detailed at least five families of Young, with Estates called Leny, Lenzie, or some other variation, and all in the south and mainly south-east of Scotland. More significantly, our chart on the wall seemed to contain parts of the history of a number these quite distinguished families.
Our suspicions regarding the accuracy of our "Chart" were now seriously aroused, and after discussions with fellow researchers on our Young side, we decided to use a professional researcher to try and work back through the tree. Our researcher could make no progress beyond David Young, born 1658, and married to Katherine Toshah. She correctly surmised that this David had been "grafted" on to another tree, or a combination of trees.
While we were waiting on the results of the research, a new Young relation was "discovered" in New Zealand, who was in close contact with a Mr Alf Cobb, of Surrey, who had carefully researched this Young family in the early 80's. His work too, confirmed the fabrication of the entries prior to David Young, born 1658, (1648 on the original chart) but he has managed to go back a further two generations.
The remainder of this article is almost exclusively the result of his research, and the notes he has made available to us.
Who was the perpetrator of this ambitious hoax? The proof of hoax may very well be in the fact that the Author of the chart would not sign their name to it. Not withstanding this, the error of the Grey connection and the story of a Sir John Young go back further, and is repeated in De Brets. Alf said some of his ancestors called their homes "Leny", so while the chart may have been Australian in origin, the story has earlier origins.
The chart was completed about 1840, and printed in Birmingham, England. The only copies appear to be in the hands of the Australian relatives, both Fox and Young, and suspicion at this stage would seem to fall on Mary Eliza Young, first married to Isaac Fox. The Youngs in Australia with the chart are descended from her uncle, and Mary Eliza would have been 51 years of age when the chart was completed. Maybe she passed a copy to her nieces and nephews?
The following article on the early history of the Young family is taken from a letter dated 13th November 2006, by Alf Cobb, and is a wonderful summary.
"YOUNG OF LENY"
You should not be too disappointed to realise that our "Young of Leny" does not turn out to be as the Youngs imagined. The Victorians were anxious to have a noble ancestry, not to mention a coat-of-arms, and they were only too willing to accept the suggestions of someone, providing they fitted in with the elements they remembered.
That is a reason I did not discount the Oldfield Pedigree entirely and some of the elements turned out to be correct. For example, the marriage of DAVID YOUNG II to KATHERINE TOSHACH.
The Youngs of North Dean are also to blame for some subterfuge. They were the ones who travelled the same road as your research "The Youngs of Leny" and picked up the incorrect family of SIR JOHN YOUNG OF LENY (MIDLOTHIAN) and came up with descent from CAPTAIN THOMAS YOUNG of the Royal Scots Dragoons (Scots Greys) who died at the Battle of Schellenberg in 1704.
In fact, the present position of the line from DAVID YOUNG I to YOUNG OF NORTH DEAN needs more research to prove it and still does not entitle them to arms.
Although the connection with 'our' YOUNGS to Leny seems farther away now, I still bear in mind that there might have been one. For example, LENY - a 'church previous to the Reformation' belonged to the Priory of Inchmahome. The parish was, from the smallness of the stipend, suppressed and united to Callander and Port in Jan. 1615".
Callander is not far from Dunblane where an ANDREW YOUNG was minister in 1573. His assistant was NINIAN DRUMMOND who followed him as minister in 1606, becoming minister of Kinnoull in 1611. His granddaughter was ANNABELLA DRUMMOND who married DAVID YOUNG I.
If we consider that the parents of GEORGE YOUNG (c1600-1652), baxter and burgess of Perth, and their family are unknown, it might be that ANDREW YOUNG was one of them.
KATHERINE CAMPBELL
When KATHERINE TOSCHACH married DAVID YOUNG II, she brought some fascinating Scottish history with her into the family. KATHERINE CAMPBELL, her mother, and ANDREW TOSHACH, her father. Both families entitled to bear arms.
Apart from my interest in KATHERINE TOSHACH and her mother's family back to her grandfather SIR DUNCAN CAMPBELL, 7th laird of Glenorchy (1550-1631) I did not attempt a study back any further.
Looking at your "Pedigree Chart" (presumably "a family history of Katherine Campbell" mentioned in your letter), my notes tell me that there are two dates of marriage in the IGI. 20/2/1641 Kenmore and 9/3/1641 Mochester, both Perthshire.
She was a daughter of SIR ROBERT CAMPBELL, 3rd baronet, 9th of Glenorchy (1575-1657) who married ISOBEL MACINTOSH. (The Oldfield Pedigree was incorrect by stating that she was "a daughter of DUNCAN CAMPBELL, EARL OF BREADALBANE, because the titles of Marquess and Earl came to later Campbells.)
JOHN CAMPBELL, 1st Earl of Breadalbane (d. 1717) was the son of her brother, SIR JOHN CAMPBELL, 10th laird of Glenorchy (d. 1686). More of him later ...
Kilchurch Castle, on the shores of Loch Awe, where the CAMPBELLS OF GLENORCHY lived until 1714, is a magnificent ruin.
The local Scots still recall "Black Duncan of the Castles" - the grandfather of KATHERINE. There are many stories - of him making his tenants plant trees according to area - of him attending the baptism of Prince Henry and giving him two golden eagles - of Prince Henry giving him horses later on. He appears to have loved trees and horses and when a band of young MACGREGORS attacked and destroyed his fine herd of horses, he ordered every MACGREGOR house to be burned and the occupants killed within ten miles.
JOHN CAMPBELL, 1st Earl of Breadalbane (nephew of KATHERINE) expanded the castle. An ancient curse came true when the estate of over 400,000 acres whittled away and, in 1985, the castle was sold.
It was SIR JOHN DALRYMPLE OF STAIR who, as His Majesty's Advocate, deprived DAVID YOUNG II of his living in 1689 for his Jacobitism. He went on, in progress with JOHN CAMPBELL, 1st Earl of Breadalbane, to direct THE MASSACRE OF GLENCOE in 1692.
George Young – (c1600-1652)
George is the first of the Youngs that we have some knowledge of. He was a baxter (baker) and burgess of Perth. He was an active member of the Baxter Incorporation of Perth, as was his son James. From his first marriage, George had four sons, James, John, George and Robert. A daughter Jane died young.
George married a second time, to Helen Burgh, (probably the daughter of David Burgh) having two sons, David I and Walter, and a daughter Janet.
George made his will on the 13th, September, 1652 at Dunblane, west of Perth.
His wife subsequently remarried Andro Gairner on a contract dated 28th January 1655.
James Young – (1620-1681)
James Young was also a baxter and burgess of Perth, becoming a bailie (magistrate) and a freeman of the city. He married Margaret JACKSONE, probably daughter of Robert Coke JACKSONE, and they had six sons; James, Walter, DAVID YOUNG II, Robert, John, George (a student of divinity) and two daughters, Margaret and Elspeth. His wife secondly married George HILTONE, a baxter and burgess.
David YOUNG I M.A. (1638-1687), son of George YOUNG and Helen Burch, graduated 1659 at St Andrews University; 1660 appointed master of Perth Grammar School; 1664 tutor to Robert, Viscount OXFUIRD; 1666 licence and ordination before Presbytery of Perth; 1667 treasurer of Dunkeld Cathedral; 1671 Chancellor Dunkeld; 1671-1687 minister of Lethendy & Kinloch. He married Annabella, daughter of James DRUMMOND and "Agnes GRAHAM in 1665. She was servitrix to Christian, Viscountess Oxfuird who died in 1664. At that time, David and Annabella were accused of improper behaviour before the Privy Council by refusing to comply with the scheming of Sir James RICHARDSON upon Robert, Viscount Oxfuird, who was then an orphan; judgement was that David was assolzised and Sir James Richardson publicly repented and craved pardon for malicious and groundless challenge; three sons, James, George, Ninian and three daughters, Sarah who married Patrick GRAY, Euphan who married John STEWARD of Cardneys, Anna who married Henry MURRAY, minister of Dunkeld. David Young I was the uncle of David Young II, ancestor of the Young of North Dean baronetcy.
David YOUNG II M.A. (1658 - c 1714)
Son of James YOUNG and Margaret JACKSONE, matriculated 1672 and graduated 1676 at St Andrews University; 1676 schoolmaster of Gask and Auchterarder; c. 1678 married (1) Christian FRIEBAIRN and had two daughters; 1682 testimonial for licence; 1685 ordained and admitted Minister of Monzievaird and Strowan; c. 1686 married (2) Catherine, widow of George MITCHELL M.A. previous minister and daughter of Andrew TOSHACH of Monzievaird and Katherine, daughter of Sir Robert CAMPBELL, 3rd baronet, 9th Laird of Glenorchy: 1689 deposed by the Privy Council for not reading the Proclamation of the Estates, nor praying for William & Mary but for James VII: 1694 involved in riot at Methven; 1699-c.1707 curate of Strabane Church, County Tyrone, Northern Ireland.
David YOUNG III - (1703-1756)
Customs Officer; was the son of David YOUNG II, born in Strabane, Northern Ireland; 1723 became a tidewaiter at Leith through influence of Patrick CAMPBELL, Lord MONZIE: 1724 appointed by Warrant as tidesman at 5 pounds per quarter, living at Broad Wynd (Alley); 1735 transferred to Borrowstounness (Bo'ness); 1745 Jacobites raided Customs House where there was a considerable store of weapons; 1751 after inspection of vessel, could not get back ashore because of bad weather and had to sail to Rotterdam; 1755 reported as 'capable but addicted to drink'; married Margaret HAMILTON and had five (surviving) children, Charlotte, William, David and George.
David YOUNG IV - Captain (1735-1805)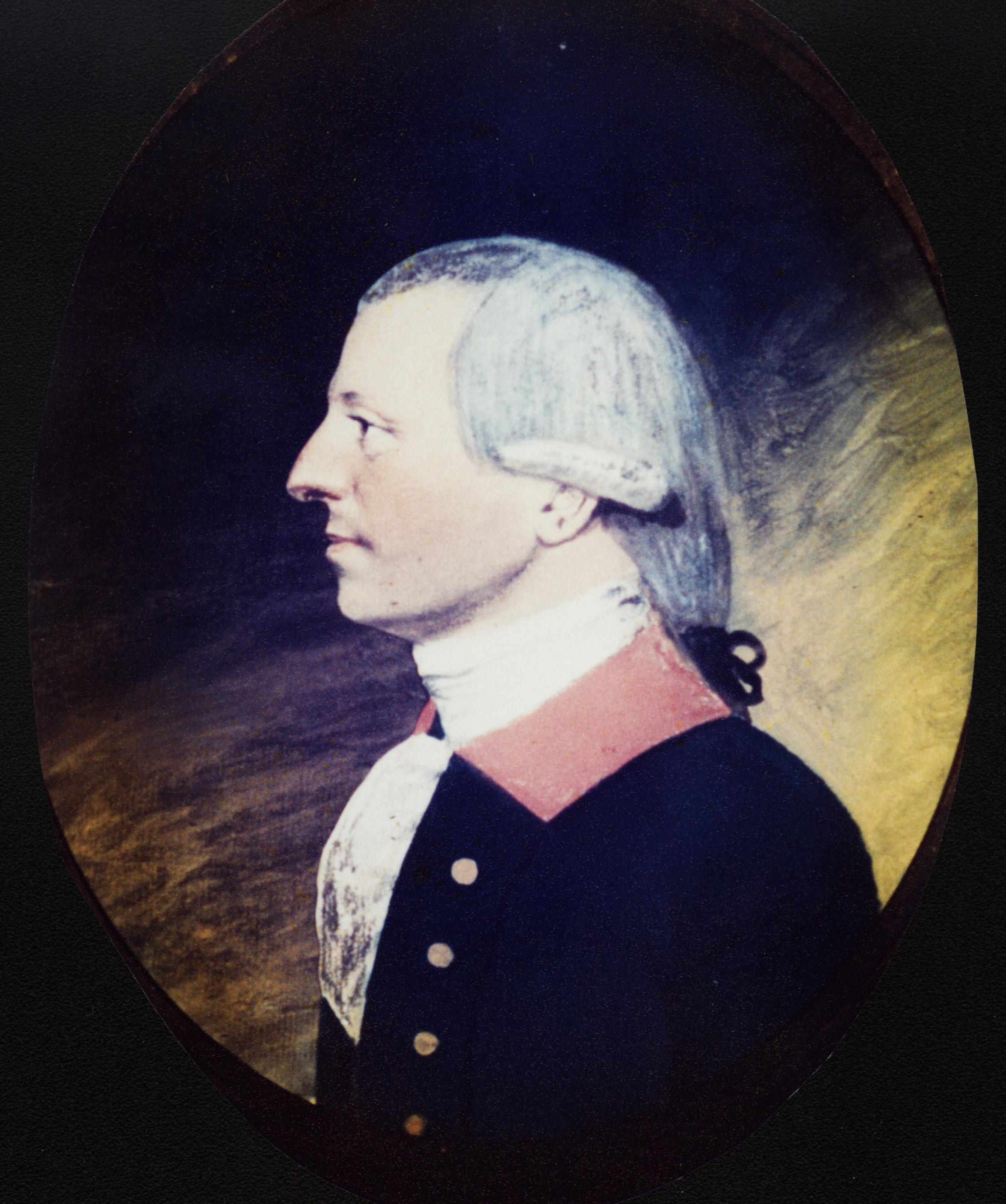 Second son of David YOUNG III, was born in Leith; 1758 married Mary, daughter of George ADAM, shipmaster, and Janet, at Borrowstounness; 1763 moved to London and lived in Burr Street, Aldgate, probably to command a ship trading to the West Indies where the Honourable William YOUNG (1725-1788), who was to become a baronet in 1769, had sugar plantations; 1770 took command of the 'William & Elizabeth" trading to Antigua. Became part owner; 1774 took son William (who was to become Vice-Admiral) aged thirteen on first voyage there: 1779 obtained Letters of Marque to fully arm the vessel; 1783 the "William & Elizabeth" disappeared from Lloyd's Register; lived at Bell Dock, Wapping, in later years; buried in Bunhill Fields. Four sons and three daughters.