[Fox Family History Home] [Site Map]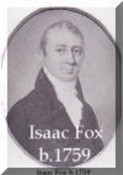 Isaac Fox of Roeburndale was born at "Scale", an up hill sheep farm two miles south of Wray. His parents were Gilbert 1714-80 and Mary (Wilson) 1714-85, who were tenant farmers in the Hundred of Lonsdale. This area is about 12 miles east of Lancaster in Lancashire. The ecclesiastical parish is Melling, and the centre of local power in that period was Hornby. Isaac was the sixth child of seven, and the third son.
About 1790 Isaac moved to Kingston, Jamaica. Our fist record of him there is in 1792, where he is listed as merchant, of Kingston, marrying Christiana Stevenson, a widow of St Andrews on September 20. On November 28 1794, a son John was born.
Feurtado states that Isaac Fox was an ensign in St Andrews Militia in 1793, Lt. in 1794, Captain 1796, Major 1805 and Lt. Colonel in 1807. He was made a JP in 1802 and a Church Warden of St Andrews in1805. He appears to be a man of some substance and vigour. He was a merchant, soldier, and churchman. He owned a coffee plantation "Mt Chrissey". In the Jamaican Almanac for 1818 Mount Chrissey is listed as the property of the Estate of Isaac Fox, with 78 slaves and 4 stock. "Mt. Chrissey" was about 500 acres, in the parish of St Andrews in the Blue Mountains, on the borders of Portland and St Mary near Fox's Gap. It is about 30 miles north of Kingston.
Christiana died, probably in December 1796. Isaac married for a second time to Mary Eliza Young (1788-1875) on the 2 August 1806. She was an 18 year old bride who required her father David's approval to marry. We are fairly sure that his new bride never travelled to Jamaica, and that her two children were born in England. Mary was a member of a distinguished Scottish family who moved to the West Indies in 1715 from Leny, in the Trossachs, following another unsuccessful Jacobite uprising. They had two children, Elisa born 2 May 1808, and Isaac born 14 February 1810.
Isaac Fox was lost at sea, in January 1811, apparently returning to or from Jamaica to finalise his affairs there, and then to England to retire. His estate took some time to finalise, and it received 16,000 pounds stg. from the British Government to free the slaves.
John, from the first marriage, stayed in Jamaica, and married Mary Lavina (Drew). He lost the property and became a member of the clergy, as rector of Black River. He died in the cholera epidemic of 1852. Children from the marriage were John Tregea Titley born 26 August 1832, Charlotte Eliza Titley (Sythe) born 6 May 1835, Theodora (Olney), Stephen, and Isaac born 14 June 1850. John's descendants live on today in Florida, Canada, and the Northern Territory in Australia.
Elisa, from the second marriage, married Thomas Lambert (1810-81), from Telham Court, Battle, Sussex, and their children played an influential part in the social and political life in England. The children from the union were as follows: Thomas (b 1841), Rev. Frederick Fox (b 1843), Edward Tiley (b 1844), Emma (b 1847) (Everett), Streeter (b 1848?), Isaac Cowley (b 1851), Mary Eliza (b 1854) (Bell).
Their descendents, the Everetts and the Bells, stayed in touch with their Australian Fox cousins as late as the 1950's.
Isaac (b 1810) established the Australian branch of the family when he emigrated in 1838. He is the subject of a following article.
[Fox Family History Home] [Site Map]